Meet Dr. Kayne Griffith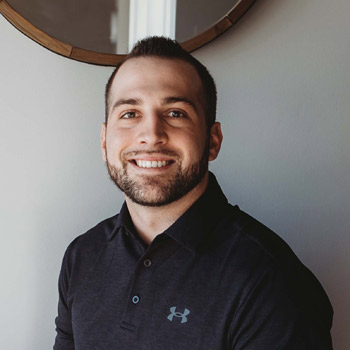 What's up Guys! My name is Kayne, and I've joined the Paragon Chiropractic & Wellness Center team after finishing up my preceptorship with Dr. Jenna. I graduated Magna Cum Laude from Northwestern Health Sciences University with my Doctor of Chiropractic on April 9th, 2022, with a Sports Emphasis Specialization.
I originally grew up on a farm 35 miles south of Fargo before attending Minnesota State University-Moorhead on a scholarship to play football. Throughout my sports career I worked closely with chiropractors, and it was through this experience that I learned just how powerful the body's innate healing capability is and how a holistic approach to health and wellness can enhance an individual's well-being both physically and mentally.
Education and Training
After receiving my Bachelor of Science degree from MSUM I enrolled at Northwestern Health Sciences University to pursue my doctorate in chiropractic. While in chiropractic school I felt my passion for the profession grow even further and that inspired me to strive to help others not only succeed and excel in their day-to-day activities, but in their life as a whole.
Along with my D.C., I currently hold SFMA level 1 functional assessment certification and have thorough experience with dynamic sports taping and an array of soft tissue/muscle modalities, including MRT. I plan to pursue my certification in FAKTR instrument-assisted soft tissue manipulation as I continue with my work.
EXPLORE CHIROPRACTIC »

Outside the Office
Outside of work, I enjoy spending my free time outdoors, at the lake, golfing, hunting, and fishing, especially with my wonderful girlfriend Hayley and our pup Lua. I'm beyond excited for the opportunity to work with Dr. Jenna, she encompasses an invaluable patient-centered approach to care and strives every day for the betterment of her patients!

Dr. Kayne Griffith | (701) 757-1145